Fully-Managed Network Edge Service
Easily deploy a secure, scalable and cost-effective hybrid-cloud environment
OnePort Digital Services Infrastructure Platform
Fully-Managed Cloud On-Ramp Networking Infrastructure
At the core of the digital services offering is the OnePort Infrastructure Platform. This next-generation cloud on-ramp data centre infrastructure provides a private and secure connection from your office to the cloud or hybrid cloud infrastructure of your choice. By plugging in to this pre-built cloud onramp platform, you have on-demand access to a massive scale of computing and storage resources at a latency of less than 10ms.
By connecting to the OnePort managed cloud on-ramp networking infrastructure, we take care of the following networking services:
ASN and IP Address management
Border Gateway Protocol (BGP) routing and management
Cloud Peering
Multi-cloud interconnectivity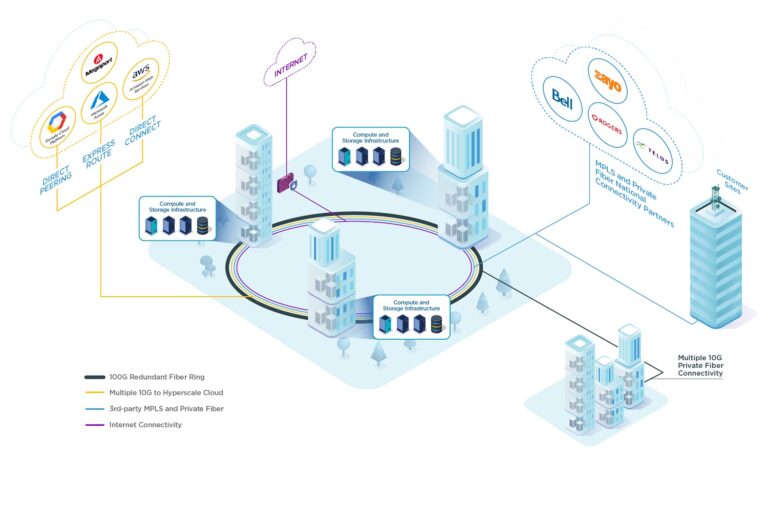 Why Use OnePort's Edge-to-Core Services
Scale Hybrid Cloud Deployments
By plugging into to our pre-built cloud onramp platform, quickly deploy advanced Hybrid Cloud network services.
Enhance Network Performance
Get low latency connectivity and efficient access to your applications in the hybrid cloud.
Simplify Networking Requirements
Easily connect your corporate office network to your data centre and to any hyperscale cloud provider.
Lower Data Egress Fees
Save on data egress fees when moving data out of your cloud or hybrid-cloud implementations.
Modernize and Optimize your Business IT Operations
OnePort helps you move your office infrastructure to the cloud while offering secure, fast connectivity to all your staff,
whether they are in your office or working remotely.